Introductory seminar
We are happy to announce the introductory seminar with PhD student Dmytro Perepolkin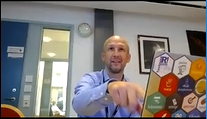 October 22nd 2020 10.15 – 12.00
Each PhD student in environmental science start their studies with preparing a literature review introducing their research topic. Dmytro's paper can be found here bit.ly/dmi3kno-intropaper The seminar was recorded – ask Ullrika for a link.
The slides have now been published in the following repo: https://github.com/dmi3kno/LU-intropaper
Abstract
Environmental problems are characterized by high complexity, dynamism, stochasticity and interconnectedness of various ecological systems. This necessitates a holistic and systematic approach to environmental decision making, which addresses both stakeholder alignment (clarity of objectives), uncertainty related to management actions (what can and should be done) and lack-of-knowledge related to how systems will change and respond to these interventions (epistemic and aleatory uncertainty). We will provide a brief introduction into the subjects of Decision Analysis and Uncertainty Analysis and their applications in the environmental management. Then we introduce Adaptive Management as a framework for making recurring decisions in environmental domain and discuss the role of learning in resource management.
Waterfowl management problems require modeling of social, environmental and biological systems including animal populations, their interaction with natural landscapes and people. We will review statistical models commonly used in the three areas of waterfowl management: harvest, habitat, and human dimension, focusing on the explicit acknowledgement and treatment of uncertainty in these models.